A scant 26% of computing-related jobs are held by women, according to BuiltIn. PEAK6 is dedicated to making change. In 2018, PEAK6 launched the Technology Experience for Women, an internship program designed to introduce women engineers to the fintech industry and set them up for success in it. We sat down with Luke Peeler, development lead, Devin Barnas and Lauren McCormack, campus recruiters, to learn more about the program.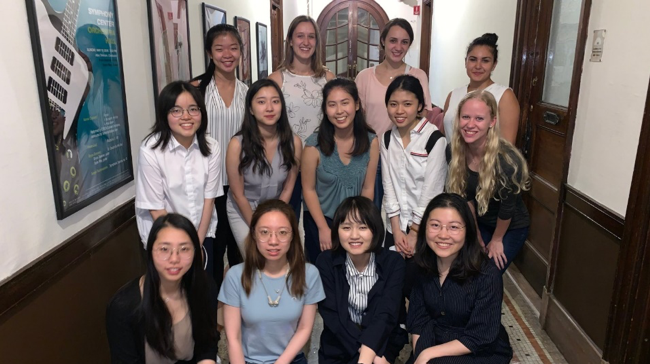 What are the goals of the internship?
Lauren: We want to increase involvement of women in the fintech space. Show them how to knock down walls, demystify the environment, teach them what it takes to be successful, and, of course, create a funnel into our employee recruiting.
We're advocating for inclusion and exploration—inviting women in tech to come check out a market they may not have considered.
What are the challenges of getting women into fintech?
Devin: One challenge is simply lack of awareness to great opportunities in fintech. There is already a shortage of women in the software engineering space, and women with overlapping interest in fintech are an even smaller subset. But when we get them in here to experience the fintech space, learn about our business context and domain, see what they can do, meet other women in the cohort, and add our social programming, it's a win-win.
How was the Technology Experience for Women internship developed?
Luke: It was 2018. We had just wrapped up the first year of our Trading Experience for Women. That program was the brainchild of PEAK6 co-founder Jenny Just. After we had our first class of female trading interns, Jenny set the course for rolling the program out in tech. Our 2021 intern class will be our fourth year for tech, and our fifth year for trading. https://www.youtube.com/embed/zTT3ff5HtL0
What types of projects do interns work on?
Devin: Our interns work in pairs on a specific project. They also have mentors guiding them and helping them execute the project, while also focusing on learning and growth. It's different from what they've been doing in school. They're building innovative tools to integrate with our proprietary trading platform—like tooling for low-latency market data streams, a data dependency framework and visualization tool, or an analytics framework and visualization tool for application usage.
It isn't neatly packaged and well-defined like their coursework. A piece of software might have millions of dollars flowing through it. We are helping our interns understand that scale, and see how consequential their contributions will be.
Luke: As an example, a recent class of interns worked on a project designed to help app creators learn more about users' habits with regard to their apps through data. They did a final presentation for the tech team and all the senior leaders at PEAK6 about the project, Stlatlas. That project combined a platform for collecting stats and reviewing the pipeline, with a new tool our then-interns Youmna Rabie and Xizi Yang built to visualize the data. It is now a functional app for our organization. [Read about recent interns and Animal Crossing aficionados Youmna and Xizi]
Virtual internship? What was that like? Lauren: We did our best to mimic what we would have done in person. We had options education, social events, and tried to create a very similar experience virtually. We still gave our interns exposure to the portfolio of companies at PEAK6. They still worked in teams on projects and gave final presentations to leaders. We were especially creative about our social events. We had a virtual magic show. Devin designed a PEAK6 version of Nailed It, where interns created a design on top of a microwavable cake. We had virtual office tours, happy hours, game nights, a virtual escape room.
What technologies do interns explore? Luke: They have opportunities to work with a variety of languages and frameworks, such as Java, Python, Go, JavaScript, HTML/CSS, and React, and technologies such as MS SQL Server, PostgreSQL, Redis, MongoDB, Airflow, Kafka, Kubernetes and Docker.
Who should apply?
Women who have:
a graduation date between December 2021 and June 2022 in a bachelor's or master's program in computer science, electrical or computer engineering, or a related discipline
software development skills in a modern, object-oriented programming language such as Java, Python, or Go, and the ability to learn new languages and technologies quickly
curiosity to learn and a drive to improve
ability to thrive in collaborative environments
effective communication skills
demonstrated leadership ability
Update: Our 2021 internship slots are full. Check back soon about additional internship opportunities or visit our Campus Recruiting page for more information.