Shakespeare wrote wisdom that roughly said, "Some are born leaders, some achieve leadership, and some have leadership thrust upon them." Tom Simpson, the CEO of PEAK6 Capital Management, is a little of all three. When he was just starting on the trading floor, his life plan included being retired by now and living the leisurely life of a ski instructor on the Park City slopes. Simpson sat down with us to talk about leadership, PEAK6 Capital Management, fintech, and where his retirement goal went right when it was supposed to go to retirement.
Starting the Day With Intention and Routine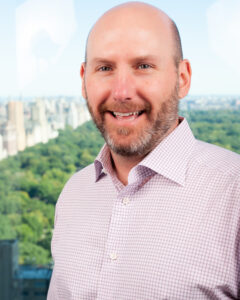 For many of us, waking up an hour or so before work is enough. For Simpson, it's precisely 5:12 a.m. Why so specific? Trial and error. And 5:12 is the perfect time to lie in bed and use his handheld devices to catch up with the stock and business news on his well-curated Twitter feed. "Then I optimize the morning to catch up, grab a quick breakfast bar, and do more news searching," Simpson says. "By 5:45 a.m., I'm fully awake, doing some stretches, and then meeting with my trainer." This routine prepares Simpson for his first meeting at 7 a.m. After all, the market opens at 8:30 a.m.

Due to the markets, there's even more routine in mind for the day. He's frequently looking at news headlines. Reaching out to his senior risk and portfolio teams for anything else he needs to know. By the time the market opens, Simpson knows where to focus. He can move on to executive meetings and work on strategy when the market slows down.

But none of Simpson's day is possible without the support of a team. And it's the people at PEAK6 Capital Management that have kept him around so long.
It's the People Who Fuel the Fire
Any successful leader knows that success isn't a one-person show. And that's something Simpson recognized early on working with Matt Hulsizer (Co-Founder & Managing Partner, PEAK6 Investments) 17 years ago. "It was working with Matt in a hedge fund that opened my eyes to the business beyond trading," explains Simpson. From that leadership example, Simpson opened his own division at PEAK6 Capital Management (Spark), allowing him to lead a team beyond risk. "There was fulfillment there," says Simpson. "And helping others to find success was so rewarding."

One thing employees at PEAK6 Capital Management often hear: it's always about the people. "I didn't create that culture, but I empower it so it can continue to flourish," Simpson says. "When we hire, we can't have selfish people and we look at our core values of adaptability, collaboration, grit, ownership, and curiosity. An individual's mindset needs to be, 'if we do well, then I do well,' — not the opposite direction." It's all about being stronger together at PEAK6 Capital Management, and that "if we do well" vibe makes the people connect in a unique way.
So when the role of leading the trading team came up, it fueled him to move the business forward. Because it's been people and opportunities that have made all the difference for Simpson and his career.
The Opportunity to Give Back
Simpson has achieved a rare level of longevity in the finance and fintech industries. "It can be hard to succeed. I needed the ability to adapt and add value with my skill set," he says. "My career has been opportunity-based and not goal based. I think that's fairly unique to PEAK6 — to have so many opportunities — and that's why I want to give employees the same opportunities I've been given."
What he likes to pass on to new traders is to be curious. Simpson will tell young traders, "Ask questions of everyone you can. Build relationships so you can ask those questions." Simpson knows that as a young trader, you are narrowly focused based on risk feedback to know if you're right or wrong. And when you only know traders, it's easy to believe that's the whole world. "The world is larger than that," Simpson says. "Business is more gray, and it's more about the people rather than the numbers. Young traders need to understand that through time and experience you can gain that context and understand the vastness of the world."

And the world is vast, including at PEAK6 Capital Management. There are 226 people and only about 70 traders. "The entire team (risk and research analysts, software engineers, and more) is integral to give the traders the information they need to be successful. We're a collaborative network of employees that all contribute to the trading landscape. No one is out there alone." Additionally, Simpson points out that in the finance industry, it's a marathon not a sprint. Good days or bad days, no single day makes your career, so focus on the long game.
An Eye on What's Next
At PEAK6 Capital Management, it's a trading business, and it's pretty niche at its core. But there's still a grand horizon to meet. Simpson explains, "Of course, we want to grow our market share in the areas where we're already successful. And then it's about discovering where we can apply our risk management skills and provide liquidity outside our core U.S. listed equity options."

While this isn't the mountain he saw himself skiing at this age, it's a peak Tom Simpson is more than happy to climb.
---
Do you have that "if we do well, then I do well" attitude? Do you want to join a fintech trading team that will supply you with opportunities to succeed and grow? Check out our openings at PEAK6 Capital Management.