By Erin Lydon, President, Poker Power
In the game of poker, tournaments are a different beast. Tournaments versus cash games require different strengths, but anyone can learn to play both well. Tournaments have a bit more risk, and that's where women have a chance to shine — and become leaders.
In cash games, a player can leave the poker table at any point or continue adding more chips to her stack. Tournament style poker is a survival game where you play down to a final winner. Once the re-buy period has closed, it becomes a zero-sum game. Someone will win, and everyone else will lose.
Now, let me back up a bit. I started my career on Wall Street in 1999 and was surrounded by a lot of men — and a lot of poker. But back then, like many women, I never took my seat. 
Fast forward to 2020, and Jenny Just (Co-Founder & Managing Partner, PEAK6 Investments) shared her Poker Power idea with me — teaching women poker to gamify life and leadership skills. In many ways, I was customer number one for working women and business leaders, and I've continued to learn with each iteration of our curriculum. Now, I regularly play in our community games on the Poker Power Play app (available in the Apple and Android stores), charity tournaments, cash games, and ladies' tourneys wherever I can.
Confidence-building happens quickly in our Poker Power games, where 95% of our players have never sat at a poker table. But once they do, there is an immediate "aha" moment of pride and excitement. This intensity is amplified when a woman wins her first all-in pot and scoops the pile of chips toward her — that rush of excitement, the grin of satisfaction, the recognition that she took a risk and it was the right decision. These are all moments we replicate daily in our real life and at our virtual tables. It's quite extraordinary how we can take a player from zero to hero. At that moment, the life lessons we teach with poker start to transcend from gameplay to real-world success.
Shuffle Up and Deal
At Poker Power, the style of poker we teach our community is No Limit Texas Hold 'Em in a tournament format. It's about the long game. As the tourney day progresses and you get closer to the bubble (when the next player to bust doesn't win anything and everyone else still at the table is now "in the money"), you want to preserve your chips. I've been the bubble girl, and it really sucks — I missed out on a free trip to Paris because I busted just before the final table at a charity game!
Every round in poker is a negotiation. The players have to agree on a price to see the next card. In tournament play, it often comes down to heads-up (just two players) pretty quickly. In cash games, many players are willing to limp in just to see the flop. In tournament poker, only one person wins, so the negotiation element of playing your cards is keenly tied to aggressive moves at the table and the strength and consistency of the narrative being told by each player. 
Risk and Strategy for Tournament Play
Honestly, I still never feel ready to play a tournament — I prefer cash games, as I can get up from the table whenever I want. I always like to have a quick exit strategy. I play tight and aggressive, and that's well suited to playing cash. 
But participating in tournaments, especially industry-held ladies' events, is very important within our growing Poker Power community. One thing I can say is that if I can do this as a novice, anyone can! I've now played in four live tournaments and improved at each one.
Tournament play is about stamina and mental strength to stay sharp, as you will play for hours straight and have only short breaks. Tournament strategy also requires maximizing opportunities for positional steals, widening your ranges, and getting comfortable shoving all-in (especially when your chip stack is short.) We love how this strategy translates to business life for women leaders because you need to consider all of your outcomes and be ready to make bold decisions.
In poker, there is a saying, "to win, all you need is a chip and a chair" — many times, a player's fortune can change on one big bluff or value bet. In fact, in tournaments, you may find yourself going all-in with hands that you would consider mediocre, in order to put pressure on your opponent and get them to fold so you can scoop a big pot. It takes a lot of resilience to be a tournament player because you will definitely lose more often than you win. But when you do win, you will win big!
The Big Bad Bluff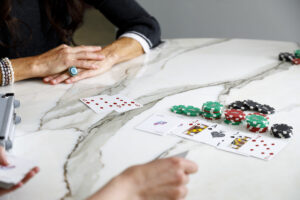 Through Poker Power, I've learned the best positions to bluff in (late position) and now use it to my advantage. At the World Poker Tour Ladies Tournament in December 2022, I bluffed an industry executive to fold her low full house by telling a consistent story with my betting — my gameplay narrative messaged that I had the higher full house. I had nothing in my hand once the turn card came on the board, but I reraised her anyway since I was on the button (the strongest position at the table). My aggression got her to fold. We later talked about the hand. The thing with running a successful bluff is that you immediately want to share it with others, but you can't do that or show your cards figuratively or literally. It's identifying this kind of risk, creating a strategy, and making that final decision that gives women confidence and creates leadership in their everyday lives.
But does bluffing always work? That's the risk that has to be weighed. I played a cash game locally and again bluffed having a full house. I needed one more card to hit on the river to connect. It didn't come, and I didn't fold my hand. I, unfortunately, shoved all in. That didn't end well. I was out $300 in chips in less than five minutes from when I sat down. 
My key takeaway: Read the tells and observe the play style at the table. Be patient and watch the other players before jumping in aggressively. For my failed bluff, I missed a key clue: The dealer knew all the other players at the table by their first names — that meant that these guys were grinders (regulars at the table). They weren't going to be easily bluffed by me. They had bigger stacks and likely had already discounted me as competition. 
The Right Mindset Is Everything
How the cards are dealt is luck, but how you play them is skill. Poker tournament play is where we learn to set achievable goals and must be willing to accept the game's variance. This unique combination of logical reasoning with emotional intelligence within a setting of imperfect information keeps the game challenging. 
I can explain the rules of poker in a minute or two, but it takes a lifetime to master the complexity of game strategies — though, you'll have fun along the way. I like learning a new skill at this point in my life because, honestly, I had gotten content not doing difficult things. Poker is hard, but poker is fun. Poker is social and full of laughter and competition. I thrive in that environment. Truly, playing poker is a microcosm for playing the hand you're dealt in business and in life. It's the best training ground to accelerate professional and personal growth and push yourself outside your comfort zone.
---
Register for virtual lessons at Poker Power to gain the negotiation skills, decision-making, discipline, and confidence you need to win at business.
We've partnered with Zogo, a leading financial literacy app, to make learning the fundamental skills of poker accessible anytime, anywhere. Download the Zogo app for free Poker Power lessons.