March 2020 was a time of uncertainty and fear around the world. The COVID-19 outbreak had just been declared a global pandemic by the World Health Organization, and no one knew what the future held. It was the perfect time to open a new fintech company office in a new country.
Incomparably Curious and Defiantly Brave
In early 2020, when PEAK6 looked at opening an office in Belfast, Northern Ireland, they couldn't have anticipated the coming pandemic and its effects on the workforce. They did know that Belfast had strong tech talent, a good timezone overlap with the United States, and a government that supports local businesses with grants to help create jobs, provide job training, and access industry conferences.
Even when the pandemic hit at their launch date, PEAK6 and the Belfast team moved forward. "We knew we had a great tech company and the support in Belfast to make it a success. We didn't think about failure, says Lisa Stevenson, site lead and VP of engineering at Apex Fintech Solutions UK. "Our biggest obstacle was to attract talent when they didn't know anything about PEAK6 and get the brand out, all while we couldn't meet in person. But once we hired someone, we'd ramp up fast through strong knowledge and culture, which really contributed to our success."
The original goals for PEAK6 Northern Ireland were to extend the tech department across all of the PEAK6 lines of business; they needed people who could integrate quickly. "This is where having the right recruiting team becomes essential," says Stevenson. "We couldn't do this without Clark Litster, Robyn Andrews, and their talent acquisition team. It comes down to hiring the right people from the start, people who aren't just talented but they understand that we're a great place to work because we collaborate well. We're a safe place to present ideas, and our employees have the autonomy to own a project end-to-end."
Reborn: How a New Name Gave New Purpose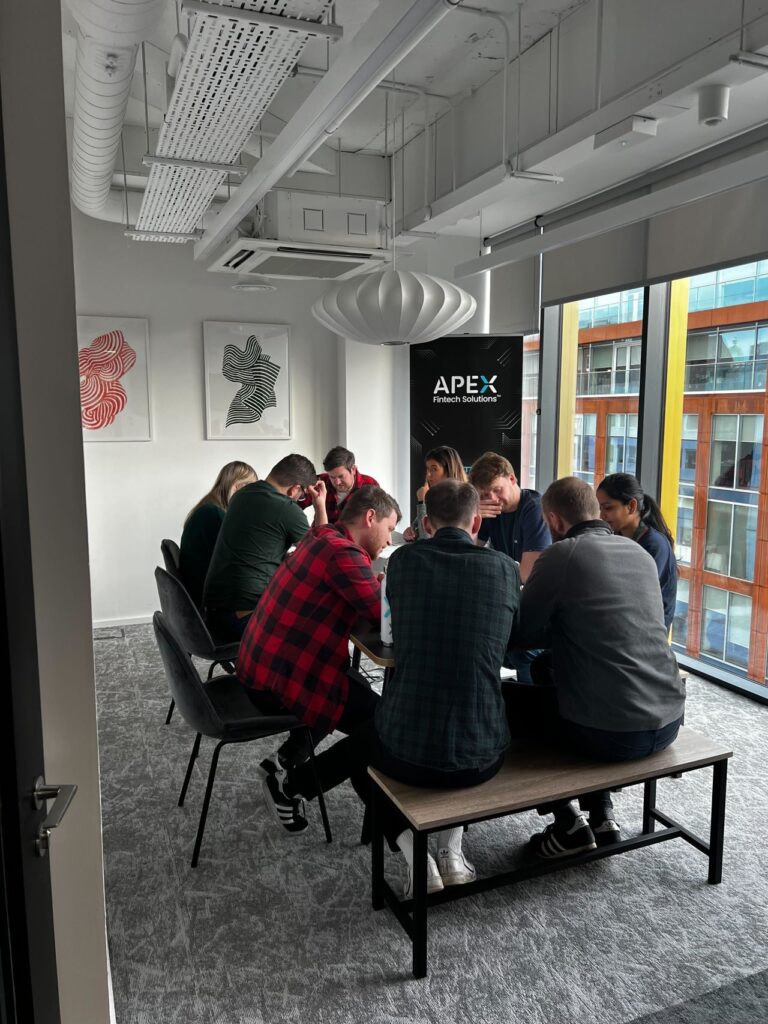 After two years, there was a distinct pattern in the projects coming in from the PEAK6 lines of business. Apex Fintech Solutions had instantly been impressed with the work coming in from Belfast, and they kept expanding the growth. "In October 2022, we transitioned to Apex Fintech Solutions UK as we continue to tighten the definition of what a visionary techn company is all about," explains Stevenson. "We're still focused on the same initiatives. We'll always be recruiting top-tier talent. We're simply identifying as a unit underneath the Apex name."
Apex Fintech Solutions, a PEAK6 company, is a market-leading, technologically focused company that aims to provide safe, frictionless digital execution, clearing, and custody for a global universe of investable assets. What drives Apex is a commitment to increasing financial literacy and helping to eliminate barriers to investment opportunities for the next generation of digital wealth creation.
Why Ambitious Plans Are Yielding Rapid Results in Belfast
At almost 100 employees strong and growing, those who work at Apex Fintech Solutions UK will tell you the best part about it is the people. You hear this about many places, but it has a ring of authenticity in Belfast. And none of it happens by accident. "We're very deliberate about who we hire, but even more deliberate about how we retain people," says Clark Litster, senior talent acquisition specialist at Apex Fintech Solutions UK.
"We conduct sessions with our engineers to find out what people like about working here, and the answer is always about the people, that everyone is talented, clever, and collaborative," says Litster. "We like to think we're fun to be around and a pretty social group, even after hours."
Managers and their teams frequently meet with employees to ensure their career is on track, make a strategy to meet personal goals, and identify knowledge gaps with a plan to fill them. The office manager helps staff stay updated with events, and there's a new social committee. "We work hard together and enjoy each other's company outside of the day-to-day," says Litster. "This way, collaboration is fun and easy." And sometimes, these conversations and collaborations bear out in global opportunities — like one employee who is sponsored for a three-year visa to work from the Apex Fintech Solutions office in Austin, Texas, in the United States.
Cathal King, principal software engineer at Apex Fintech Solutions UK, agrees. "​​The people are a great family bunch," says King. "Plus, there's a high caliber of engineering still going on in middle management and higher levels. That's refreshing. It's nice to have a blend of skill sets up layers of management."
Living in the Present and Looking Forward to the Future
Apex Fintech Solutions UK is still growing and looking at how to best contribute to the Belfast community. They're focused on offering new services for their clients and driving progressive projects for the fintech company. As for their community and people, they're stronger than ever — 25% of the Apex Fintech Solutions UK team is participating in the upcoming Belfast marathon.
---
Are you looking for a hot job in Belfast, Northern Ireland? Our teams are growing, and we have multiple roles in software engineering, support, infrastructure, information security, and product. Check out open jobs in Belfast here.