When Sofia Kampfe was growing up in Austin, Texas, she never saw a future in trading for herself. When she went away to the University of Texas, she still didn't see trading in her future. Even studying for her Bachelor's in Business Administration in finance and a Bachelor of Science in Corporate communication studies, trading still wasn't in her sights. She was looking at the finance world with internships in investment banking and consulting. It was a very straight and narrow path, she thought.
But when she saw the PEAK6 internship opportunity and thought, "Why not?" And once Sofia attended the internship Super Day, she was all in.
Super Day: A Glimpse to the Future
In her Junior year of college Sofia spotted the Trading Experience for Women internship program at PEAK6. "I didn't know anything about trading but was drawn to how the internship was described as a holistic learning experience where interns would gain real skills."
She attended the Super Day — where dozens of college students from around the country learn, network, and interview. "It's intense and inspiring," Sofia said. "Everyone spoke so highly of their job and their teams. They enjoyed their jobs and enjoyed the challenge. Every day was different in a good way. And the people, well, impressive is an understatement. They were incredibly smart, passionate, and excited to invest in and teach new people about trading. I decided that those were the people I wanted to be around and would figure out if trading was for me along the way."
Internship: Love What You Do
Sofia's internship is where the spark lit inside of her. With little knowledge about the markets, trading, and how PEAK6 operates, she had a lot to gain. "I also learned to code and got to work on a final project with two other interns where we had the opportunity to demonstrate what we had learned that summer to senior management," Sofia explains. She enjoyed the other interns, and discovered these were her people and this was her calling.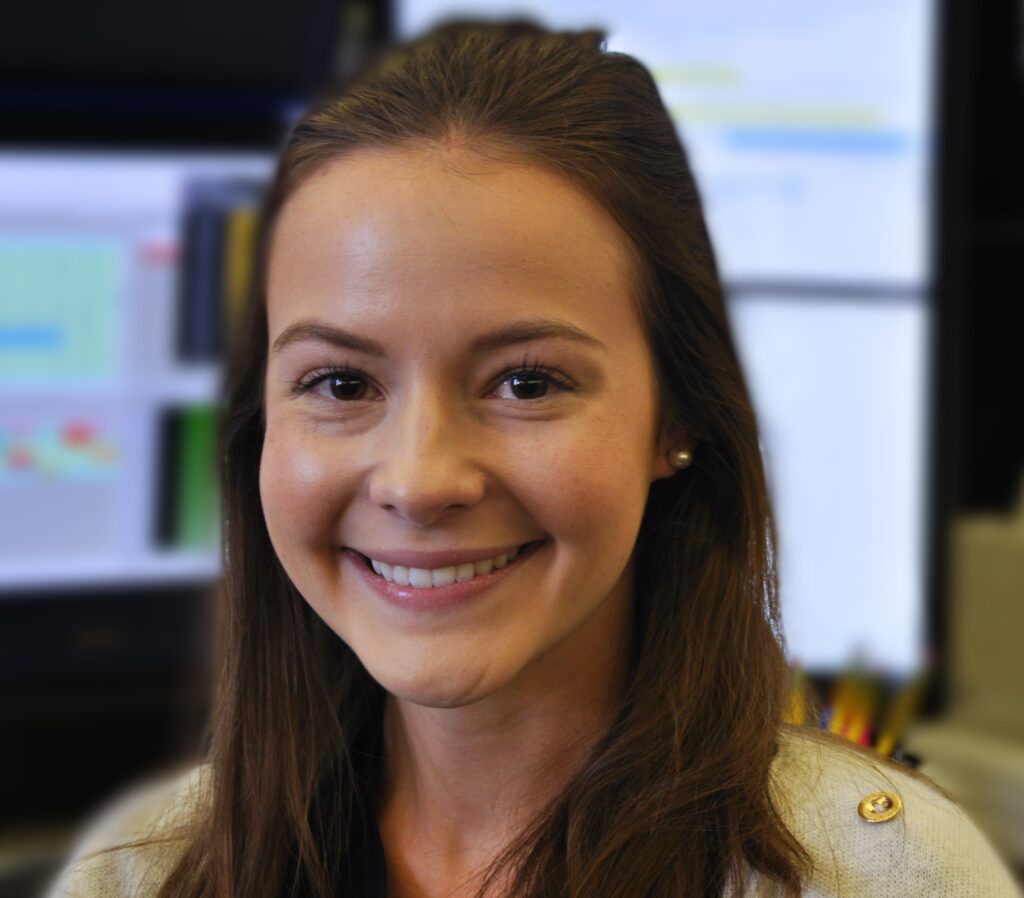 Sofia had completed other internships before PEAK6. "For me, trading was the first internship where the work was exciting. I loved to talk about it with my intern peers and then my starting class. The subject matter is interesting, and the trading environment is a puzzle to solve each day."
For as impressed as Sofia was with PEAK6, her supervisors felt the same. Sofia was offered a full-time position at the end of her internship in August of 2018. Since then, she's gained a lot of experience trading and quickly went from managing my her own portfolio to her own team. "One of the best things about working at PEAK6 is how much they invest in people. They spent time and effort teaching all of the interns and new hires about options trading, providing us with the training necessary to succeed."
Leadership: Enjoying the Risk
The life of a trader can be pretty regimented because of market hours, but every day is different. "8:30 a.m. – 3 p.m. are market hours," explains Sofia. "Those are the busiest part of the day and where most of my job is. I manage a portfolio along with two teammates."
Before market hours, Sofia will prepare for her day, reviewing what activity and news broke overnight — this could be about a symbol or a sector, federal meetings, or inflation numbers. "Then between 3 p.m. and 5 p.m. it's time for portfolio reflection, analysis, and manager meetings."
But trading is all about risk taking, and that can be thrilling. "The most exciting and frustrating parts of my job are the same: the market itself. The market is all shades of gray. Every decision has risk. You can be smart and work hard, but you still won't get it right — it's all about the human risk element."
Sofia has found that when the markets are exciting, it makes it easier to get up. But now, managing a team has unlocked a new source of motivation. "I want to lead them to success," says Sofia. "I want to bring out the best in them. Help them figure out their goals and how can I drive the group."
Did she see herself becoming a leader? "Eventually, but it was 10 years earlier than expected," explains Sofia. "I was on the team for a year and a half. The manager at the time left the company, and it had just been him and I. So now it was just me. I was 25 and the most senior member in just a year and a half. I'm in conversations and meetings I never imagined. It wasn't the timing I expected, but I knew it was an opportunity I wouldn't see for a while. Even if I wasn't ready, I knew I could figure it out along the way." Just as PEAK6 taught her to do.
One of the lessons learned from that experience is that if you want something you have to ask. If Sofia had never spoken up, no one would ever know what she wanted from her career. She had to be vulnerable and say she wanted it. "I wish I would have done that earlier on in my career and learned faster," reflects Sofia. "For anyone just starting their career: put yourself out there and sign yourself up for opportunities. Ask more questions. It's easy, especially as an intern, to think 'I don't want to bother these busy people.' But PEAK6 isn't one of those places. You can ask anything; people want you to be curious and want you to do well. The people here got where they are through mentorship and they want to give that back to others."
PEAK6 offers a number of internship programs through it's affiliates to students in the later stages of their academic careers. The Internship program is for students in their second or third year of undergraduate studies. Through these rich, engaging, and hands-on programs, interns take on real responsibility at one of the most important fintech firms in the world.
The Trading Experience for Women program will introduce the basics of trading, help participants see how empowering trading can be, and help develop key skills that can be leveraged in any industry.
The Technology Experience for Women proram is meant to encourage smart, ambitious, tech-savvy women to break the mold as developers and technologists.
At InsurTech, interns are rotated throughout several departments, providing them with exposure and development while building their professional network and career trajectory.
Interested in our internship programs? Learn more about our internships and bootcamps here.